Auteur: Noemi Bardas

Hoofdredacteur: Dominique Ankoné & Bart Brouwers

Youth dossier: Raising the voice of the next generation. From daily experience to global politics

Profile photo credit: Cedric Veldhuis
Do you know that feeling of sharing a really good hug? – firm, but not too tight, holding each other and leaning into each other; yielding your attention for a moment just to that act of being together, to the feeling of the other.
Can you recall how that feels like? Let's call this connection.
I feel it most in my belly, sometimes in my chest, sometimes all the way to my palms and fingers. It feels as a wave flushing my insides, warming and relaxing. It creates soft and comforting movement inside my body. My breath deepens. My attention expands concentrically, from within outwards, encompassing what is around me and sometimes stretching far beyond what is in sight.
How does connection feel in your body?
I, for one, really like this feeling. So, I wonder how I can bring it more in my life. How can I engage with the world in a way that cultivates this feeling? In a way that cultivates connection.
Can I find a moment of rest in the eye contact I make with a stranger? Can I listen to a whole album without doing anything else other than enjoying the music? Can I listen to a friend in the same way? Can I pause, wherever I am, and just feel my breath and the waves it traces as it travels through my body? Can I let myself be fascinated by the patterns that the shadow of this tree above me draws as it's blown by the wind? Can I be silent? Can I be here?
I notice how sometimes it seems like the world around me doesn't want to let me feel connected. And I don't mean the trees and birds and bees. I don't even mean other people. But the world that we built, that we made up. I mean how in the hustle of everyday life we seem to have forgotten about connection. How somewhere along the way we started… ignoring it?
If I look at the world through myself, as it is reflected within me, I notice how the way I exploit my body – working too much, partying too much, eating too much – is the same way we exploit nature –overfishing, overharvesting, overproducing. I see how my own body is intricately interconnected with the body of the Earth.
Obesity, burn-out, depression | air pollution, soil erosion, biodiversity loss. They're all symptoms of the same diseased system. I understand that connection – this feeling I want to cultivate – is not only about myself, but about the whole world.
How can we better design our society based on this feeling of connection? Because that does not seem to be our priority at the moment. Can we leave profit-making aside (and maybe not forget about it completely, but keep it in our pocket as a tool, instead of the ultimate goal), and focus instead on this interconnectedness that defines our humaneness. Can we actively take our part in the relationships that support life on Earth – the relationship with our breath, with our emotions, with our neighbours, with the soil –, in the hope that that would create healthier ecological and social systems?
What would that look like? What would a government that is guided by this feeling of connection function like? What would a school? Would our houses look differently? Would our food? How about our trash?
The SDGs provide a useful blueprint for this exercise of imagination. A possible bridge between feeling and action. What I value about them is that they seem to understand the interdependence of the multiple crises we are facing. How poverty, racism and desertification, for instance, go hand in hand. This multiplicity of crises also calls for a diversity of practices that might represent helpful solutions. There is not one universal, fix-it-all answer, but an endless diversity of possibilities, ready to be adapted to the bodies, the communities, the species, the landscapes and the times they are meant to serve. The question we need to ask then is: how can we listen?
Could the UN ask itself this question, too? How could it better play a part in supporting the participants of each localised context to design their own unique solutions? Could it help the people in a rural community discover what connecting to their land means for them? Could it support the students of a school to create the quality education they need? Could it listen to rivers, oceans, seas, to learn what sustainable life below water means? After all, it is these direct participants who know their own context most intimately – their customs, conflicts, needs and opportunities. Thus, it is them who know best what practices could lead to possible solutions in their own unique contexts.
This, I believe, calls for an approach focused on participation and civic engagement. It calls for institutions to shift their attention and efforts from devising solutions for people, and instead use their power to support the directly involved communities to take the lead. It calls for facilitation and community building. Participative governance and policy-making are defined by a focus on cultivating collaboration, autonomy and adaptability. They focus on bringing people together in dialogue; on elevating all voices and encouraging the ones that see things differently; they respect, acknowledge and support the power of people and other living beings over the systems they inhabit. This way, they foster processes in which communities co-create their own adapted and adaptable solutions.
Most importantly, in order to do that, we all – institutions and communities; citizens, clerks, volunteers; people – need to learn to feel; to listen; to connect. Participatory governance and policy-making does not happen from inside a cold, tall, distanced ivory tower. It happens on the ground, bare feet running in the mud. It happens when we build genuine relationships; when we truly, deeply care; when we are present, literally, with our whole being, our bodies, our awareness. How can we know how to restore a piece of land if we've never stepped on it? Do we really know the meaning of food security if we've never been hungry?
A socially and environmentally just world cannot be defined through numbers and data. And thus, it cannot be achieved in that way, either. 'Connection' feels different for everyone and in every body. In order to find appropriate practices that lead to justice, peace or sustainability, we need to understand what justice, peace or sustainability feel like. At the same time, we need to acknowledge that this feeling differs for everyone, with their own unique bodies, landscapes, pasts and dreams of the future.
So I ask you: how does a better world feel like for you? Can you ground yourself in that feeling? Where in your body do you feel it? Can you describe it?
Could the profound knowledge of this feeling be the water that nurtures your roots? And as these roots expand, as they twist and move and grow – more stable and more flexible – can they touch the roots of others? Can you meet others – as different as they may be, with their own experiences, views and feelings – and connect? Can you grow together? Could your collective actions stem from this profound, rooted connection?
And so, I ask you: how could we organise our society in ways that support such meetings and such actions? If we are to then have institutions such as the UN, how could they nurture the ground in which the roots of collaboration, autonomy and participation can grow?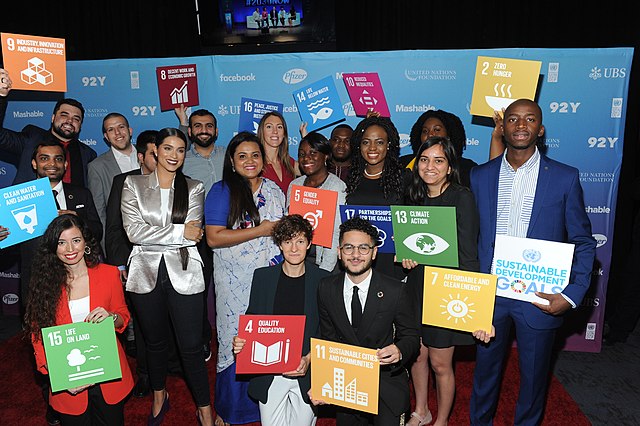 With a BA in Social Innovation, Noemi Bardas is a facilitator and community developer based in Rotterdam, the Netherlands. Rooted in the vision of a more connected world, her focus lies in the practice of self-managing organisations. Her approach is based on participatory technologies, as much as improvisational movement practices. She facilitates people to move, discuss, make, reflect and to cultivate the ability to improvise and be creative within the complex realms of their socio-political environments.